Unlike most DIY amplifiers, this one is designed for top quality sound, not just "good enough".
The audio quality of this amplifier is as good as it gets. Not even the smallest detail is lost, and there is no audiable distortion or coloration so you can listen to the music for hours without any listening fatigue.**
The power output is 50 W, and connected to 90 dB (1W, 1m) speakers like our SQ-50 series, a stereo amplifier using these modules will result in 110 dB max SPL, so you will probably not use its full potential if you care about your hearing.
The module is assembled, as above. No soldering and there is a screw terminal for connection.
It might not look very complicated, but the input (unbalanced) is internally balanced, there are dual 2-transistor current sources, a current mirror driver stage, HEXFET output semiconductors and all transistors are carefully selected for perfect balance.
Therefore the assembly time is rather long, but on the other hand the result is amazing.
*Reference quality: The completely pure and natural sound makes this amplifier suitable not only for demanding domestic use, but also for use in professional recording studios where it is important to hear every detail during the mixing / recording.
**Listening fatigue: A few customers suffering from tinnitus claim that their CM-5018 based amplifiers makes it possible for them to listen to music for hours, because of the pure and natural sound. However, as we have no hearing problems ourselves, we cannot verify this.
Nevertheless, in our shop we can listen to music for hours and still love the music.
We have tested three different class D amps, but then we usually give up listening within less than half an hour. Some complex music that is enjoyable with the CM-5018, is even irritating using the class D amps. So there is a real audiable difference.
What you need to build your own top-of-the-line Hi-Fi Stereo amplifier:
2 pcs CM-5018 amplifier modules (picture above)
Power supply components -- very few, se link to the PSU drawing below.
Volume control potentiometers
Input / output and AC sockets.
Electrical wire
A suitable cabinet.
Link to power supply (PSU) and volume control drawings.
If you have completed any electronics projects before, and can make a cabinet from our drawings (or already have a suitable one), building a high quality amplifier using these modules should be no problem. There is no soldering on the modules and a screw terminal makes connecting a breeze.
Unlike most DIY amplifiers, this one is designed for top quality sound, not just "good enough".
How can we claim that there is no degradation of sound quality over time? Well, have a look at the module above. You will not find any quiscient current adjustment potentiometer that could cause drift over time.
Instead, there is a smart circuit design we have used in two industrial amplifiers, one current loop amplifier and one for outdoor use where the temperatur could range from -40 to +70 degrees C. The temperature stability also gives long-time stability which keeps the sound quality constant over time.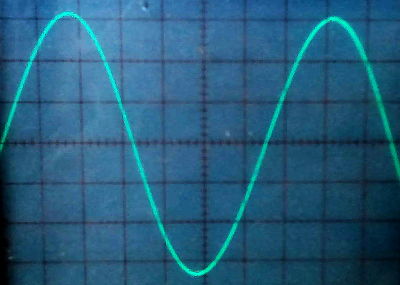 No trace of cross-over distortion can be seen, and yet there is no adjustement nor drift over time.
So, if you want a really high class power amplifier without having to pay a fortune, and can do the rest, use these modules. The sound is far better than what you get from average DIY kits or most mass produced amplifiers.
And as you can see on the PSU and cabinet drawings it is really not very difficult to build.
If you have no or very little experience from assembling electronics, a no soldering "amateur kit" including everything except for the transformer is available. All wiring is then made with a screwdriver and pliers. This kit is called PA5E.

Prices:
CM-5018 (mono) power module = 995 SEK each plus shipping cost and bank fees.
Two CM-5018 power modules (stereo) + a ready-made PSU board with screw terminals = 2390 SEK (about 255 USD) + shipping cost and bank fees.
PA5E, the complete kit with the above components plus all wires, contacts, potentiometers, knobs, switches, fuse et.c. (all except the transformer* and cabinet) = 3100 SEK (about 330 USD) + shipping cost and bank fees.
We use Paypal for payments from other countries than Sweden. They charge us typically 2.7 % for each transaction, so that will be added to the cost + shipping cost.
*) Why no transformer in the export kit? Because different countries have different laws and regulations regarding products connected to the mains voltage. So the transformer should be bought from a seller in your country.
If you have any further questions, donīt hesitate to write an email to:
info@valutronic.com