What do our customers think about our products? Facebook to the left, Google My Business to the right: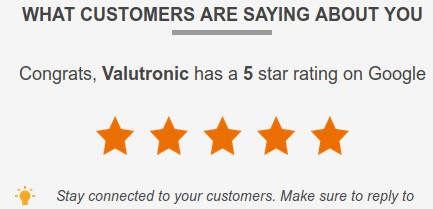 Top quality Hi-Fi amps and speakers not found anywhere else.
Why settle for ordinary sound quality when you can get audiophile / studio quality for the same price?
Valutronic (Sweden) was started in 1968. We have designed, produced and sold our own electronics since then, both audio equipment and a vast range of industrial and automotive electronics as a subcontractor.
When it comes to audio products, sound quality and reliability are our first priorities.
We select just the right components and assemble our products with great care. Our power amplifiers only use discrete ultra-fast small signal semiconductors and low capacitance HEXFET:s.
Our loudspeakers use carefully selected and tested drivers and we use high-quality filter components.
No corners are cut to increase production speed or profit as mass-producing companies are forced to.
We hand solder our PCB:s to make sure every single solder is OK, to ensure long-lasting quality performance.
When you buy your Hi-Fi from us you get the highest possible quality to price ratio.
Amplifiers:
Our Poweramp 5 power amplifier has only high quality components and the cicuit design is as good as it gets. No audible distortion, noise or hum. It took us almost two years (and over 30 prototypes were built) until we were satisfied with both the sound quality and reliability.
Our customers (both private individuals and sound engineers) usually compare the Poweramp 5 with amplifiers in the 5,000+ USD range.
The amp has a low noise balanced input, dual separated current sources, a high precision current mirror driver, and low capacitance HEXFETs. The automatic quiscient current system ensures that sound quality will not deteriorate over time. You will never get tired of the sound.
We sell a complete kit to all EU countries with 230 V mains voltage and EU grounded plug.
To other countries we have kits with country-specific components (transformer and mains cable) removed, at lower prices of course.
If you have built electronics before and want to save some money you can buy only the power amp modules (PA-50) from us and get the rest locally. We can also supply a ready-built power supply board with four rectifying diodes, six electrolytic capacitors, four electronic self-resetting fuses and input and output screw terminals.
Read more about the amplifier variants here.
Loudspeakers:
We have designed and built loudspeakers since the company was started, but in 2004 we decided to take a closer look at a bass reflex design I stumbled over on a dutch private website. We used the formula from the site to design our first SQ-50 loudspeakers. (SQ stands for Studio Quality and 50 for the RMS power.)
Klick here for the SQ-50 H
,
here for the SQ-50 L
studio quality monitors and
here for the orto-acoustical SQ-50C.
One of our first SQ-50 customers was a recording studio in Sweden, and since then dozens of recording studios and thousands of private customers have built these wonderful loudspeakers.
After a few years a small cabinet design change was made, and in 2016 there was a filter component upgrade and we also upgraded the tweeters. Finally, in 2017 we upgraded our calculating software and could fine-tune the bass ports to get an even more firm (not the usual rumbling) and deep bass.
The sound quality of the SQ-50 range is now identical to the Sennheiser studio headphones we use for reference.
The detailed sound, low distortion and wide frequency response (no need for a subwoofer) puts them among the very best sounding speakers you can buy. But at a price you can afford.
We do not recommend using the loudspeaker drawings and instructions on our site for practical use. They are here only to give an idea of how easy it is to build your loudspeakers using our instructions, the size references may not be correct.
So, please wait for the printed instructions that are included in our speaker kits until you start your project.
By the way, the C variant of the SQ-50īs looks like this. If you live outside Sweden you might never have seen a loudspeaker looking like this. However, during the late 1960īs and 1970īs at least 100,000 of the "OA5 MK II" were sold, the most popular loudspeaker model ever in Sweden.
The SQ-50C is an improved model we have designed ourselves, using modern high-quality components.
These loudspeakers were
specifically designed for a normal living room environment.
They have three unique features:
1. Music sounds like if the musicians are playing in your own room.
2. You donīt have to find a "sweatspot". The music is enjoyable all over the room.
3. You can place the speakers where they fit in with your furniture, instead of moving your furniture to make place for the best positions of your speakers.
Read more about the CM-50C orto-acoustical loudspeaker here.
Click here for the H
,
here for the L
or
here for the C
variant.
We export to most parts of the world!